One critical corridor might be incorporated into Greater Jerusalem, which could have a major impact on the region's stability.
When Donald Trump announced that the U.S. would recognize the city of Jerusalem as the capital of Israel and move its embassy there, Israeli Prime Minister Benjamin Netanyahu was elated. So were other right-leaning political leaders in Israel, and many (but not all) evangelical Christians in the U.S. (about a third of whom believe in a rapture scenario that requires a Jewish capital in Jerusalem). This week, the UN Security Council and a large majority of UN memberscondemned the move. So has the Palestinian leadership, who see predominantly Palestinian East Jerusalem as the capital of their future state.Such are the political takes from governing bodies and leaders. But will Trump's announcement change anything significant in Jerusalem itself? In the immediate short term, not really: The U.S. embassy move from Tel Aviv to Jerusalem wouldn't happen for years, for instance. But over the longer term, the move could soon begin to alter the shape of the city, by encouraging Israel to continue seizing and settling land in East Jerusalem and the West Bank.
"Trump's announcement rubber-stamps Israel's land grabs, and we'll likely see more of them than in the past," said Zena Agha, a Palestinian-Iraqi scholar who has studied urban planning in Jerusalem. Indeed, two days after Trump's announcement, Israeli Construction Minister Yoav Galant announced plans for 14,000 new settlement units "in response to the historic decision of President Trump." Seven thousand units will be in East Jerusalem, where today 370,000 Palestinians and 280,000 Jewish settlers live. More than half a million Jewish settlers inhabit the West Bank as a whole.

To understand why East Jerusalem and its environs are so critical to the fate of the Israeli-Palestinian peace process, some background: After the 1948 Arab-Israeli war, Israel captured West Jerusalem, while Jordan controlled East Jerusalem and the adjoining West Bank. Jordan lost these areas to Israel in the 1967 war. While a UN resolution called on Israel to return the land in exchange for peace with its neighbors, Israel instead annexed East Jerusalem and parts of the West Bank and began to build Jewish settlements on them in a move considered illegal by the international community—which does not recognize East Jerusalem as part of Israel, though Israel declared the entire city—both East and West—its capital in 1980.

In short: Israel wants all of Jerusalem, while the Palestinian leadership sees East Jerusalem as its future capital. That's why Trump's declaration is such a contentious one, even if he avoided using the word "undivided" when describing Jerusalem as Israel's capital.

One bit of real estate that is now a focus of renewed attention is the so-called E1 corridor, an area of about 4.4 square miles that sits between East Jerusalem and the Israeli settlement of Ma'ale Adumim. This landscape of sand and hills, dotted with Bedouin villages and other small Palestinian communities, is a particularly strategic piece of West Bank land. Israel has long aimed to incorporate E1 and nearby settlements into Greater Jerusalem. Doing so would create a Jewish majority in Jerusalem, ensuring its status as "the undivided capital of the Jewish people." That could also spell the end of the so-called two-state solution: "The West Bank would be severed in half, making a contiguous Palestinian state impossible," said Agha.
Nur Arafeh, a policy analyst who grew up in East Jerusalem, added that such a move "ignores Palestinians' right to the city and to self-determination."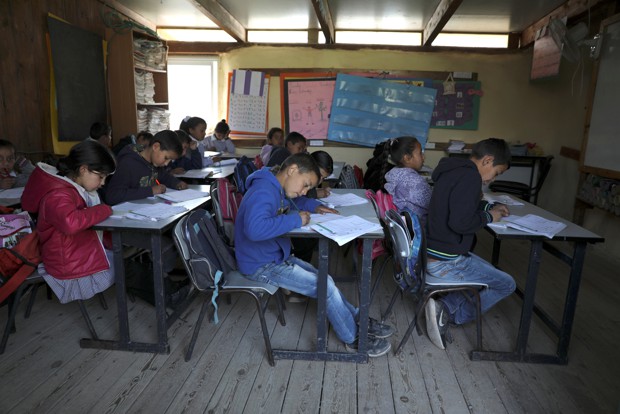 So far, pressure from the U.S. and other states has forced Israel to table its plans to build settlements in E1. But Israel has been quietly laying the groundwork, constructing roads, a police station, and a reservoir in the area. In the wake of Trump's announcement, the government may feel emboldened to move forward in earnest.
Construction in E1 would displace the Bedouins. Khan Al-Ahmar, for instance, a Bedouin village in the corridor not far from Ma'ale Adumim, has been fighting Israeli demolition orders for years, and is now slated to be destroyed in 2018. Its residents would be moved to a less strategic area, near a garbage dump in the Palestinian town of Abu Dis—which they reject. Bedouin villages like Khan Al-Ahmar are found throughout the West Bank and Israel, and Israel does not allow them access to electricity or other services. Israeli authorities even confiscated solar panels that an NGO had donated to Khan Al-Ahmar in 2016. Last month, 10 Democratic U.S. senators wrote to Netanyahuasking him to stop the demolition of the village.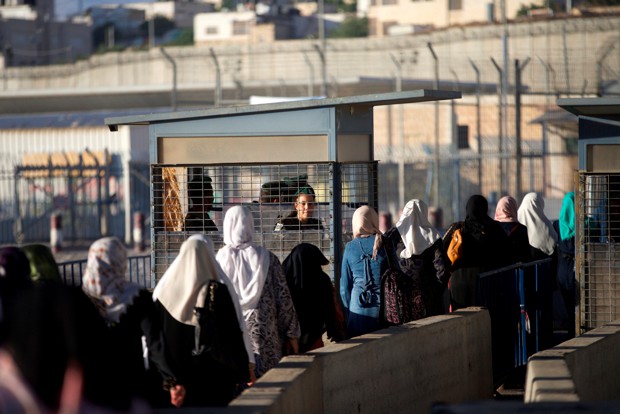 An Israeli seizure of E1 would also affect the lives of East Jerusalem's Palestinians. Currently, checkpoints and Israel's separation barriermake Palestinians' movement in and out of East Jerusalem arduous, both for those who live there and those who wish to enter from the West Bank. "Settlements in E1 would make entering and leaving East Jerusalem even harder," said Agha, "by ramping up Israeli security and restrictions on movement."
What happens next in E1 is likely to be a bellwether of things to come: "All eyes should be on this corridor," Agha said.